The turnover achieved by a sports betting provider depends on many factors. However, the most important factor is always the customer and how long they remain loyal to the company. In order to understand your profit as a betting operator, you must first understand the value of your customers. Only then will you be able to plan intelligent marketing measures such as the sports betting bonus.
The following article deals with the topic of Customer Lifetime Value and the resulting conclusions for your betting company. It further compares the effectiveness of sports betting bonus, freebet and marketing in this context.
The Customer Lifetime Value (CLV)
How much is a customer worth? – that is the question that a betting provider has to ask himself before he can plan his marketing measures efficiently.
The key figure for answering this questionin the world of marketing is the Customer Lifetime Value (CLV). IT describes the contribution margin that a customer makes for the company during the entire business relationship (customer lifecycle). It thus measures the estimated net worth of a player for the betting company. This figure is essential to know how much should be invested in a customer over a certain period of time. It further shows how much profit can be expected from him.
There is a simple formula for calculating the customer lifetime value. You simply need to multiply the annual turnover per customer by the average (forecast) lifetime of the customer, minus the cost of customer acquisition.
Customer Lifetime Value = (annual turnover per customer * average lifetime of the customer) – customer acquisition costs.
The above formula can give a clear picture of profitability in a perfect marketing environment. However, since no environment is perfect or stable, the calculated value only provides a forecast rather than an accurate metric. Therefore, difficulties with this simplistic way of calculating can arise. This is often the case when features such as word of mouth, satisfaction, competition, economy, customer loyalty, churn, etc. are added to the equation.
For this reason, large betting companies in particular are often experiencing difficulties when calculating the CLV. It has therefore become established to add your own relevant functions to the basic formula for calculating the CLV, based on your company's sales structure and the internal and external environment. It is therefore also important to continuously monitor reality in comparison to the CLV forecast. That way your own CLV model can be continuously improved (target/actual comparison).
Marketing
The CLV is one of the most important KPIs for marketers. It provides a good starting point for assessing which marketing and CRM strategies are most effective, as well as which player segments are most valuable to a company. Because by knowing which customers are profitable, the marketing budget can also be spent on the right customers.
In this context, it's important to weigh the player's CLV against the cost of customer acquisition. A common rule of thumb is the 3:1 ratio. The lifetime value of a customer should therefore be three times the acquisition price. Nevertheless, some experts will also accept a smaller ratio of 2:1. As a result, the higher the ratio, the better the return on investment.
If you know the customer lifetime value of your customers, you can use this information to take three important steps:
1. Increasing the customer loyalty
An accurate estimate of a player's potential value also has a direct impact on loyalty strategies. It is of course worthwhile to keep a player on your own platform for as long as possible. Still, the right ratio between costs (acquisition, loyalty) and the contribution margin generated by the customer must always be maintained. Sometimes, it can make more sense to focus on new customer segments, rather than holding on to each existing customer. Customers come and go, but it is important that the right ones stay.
2. Effective customer segmentation
Since not all players are equally valuable to your company, customer segmentation can also be used to create groups. For these groups (e.g. high-value vs. low-value players) different levels of attention (customer service) and marketing budget can be spent. In the past, so-called "VIP" customers were often defined and personally looked after. Thanks to modern sports betting solutions with integrated CRM tools and automated segmentation, you can create significantly more detailed segments. This allows you to take better care of your customers and avoidwastage. One example for this would be the dynamic segmentation in Bookmaker NEXT.
Read more about the topic of customer segmentation here: Sports betting business intelligence: How well do you know your customers?
3. Optimization of products and services throughout the entire customer lifecycle
Knowledge about his customers is power for a sports betting provider. That is because he can use this information to develop his products and optimize the user experience. The various phases of the customer life cycle can be supported by specific marketing tools. Some examples for this are advertising campaigns and individual widgets, tailored to the needs of different customer groups. The latter are described in more detail below.
Customer Lifetime Cycle
It is in the betting provider's interest to keep the CLV of its customers as high as possible. This can be achieved with two strategies: The first is increasing the length of time the player stays on the website. The second is increasing the revenue from each session of the customer.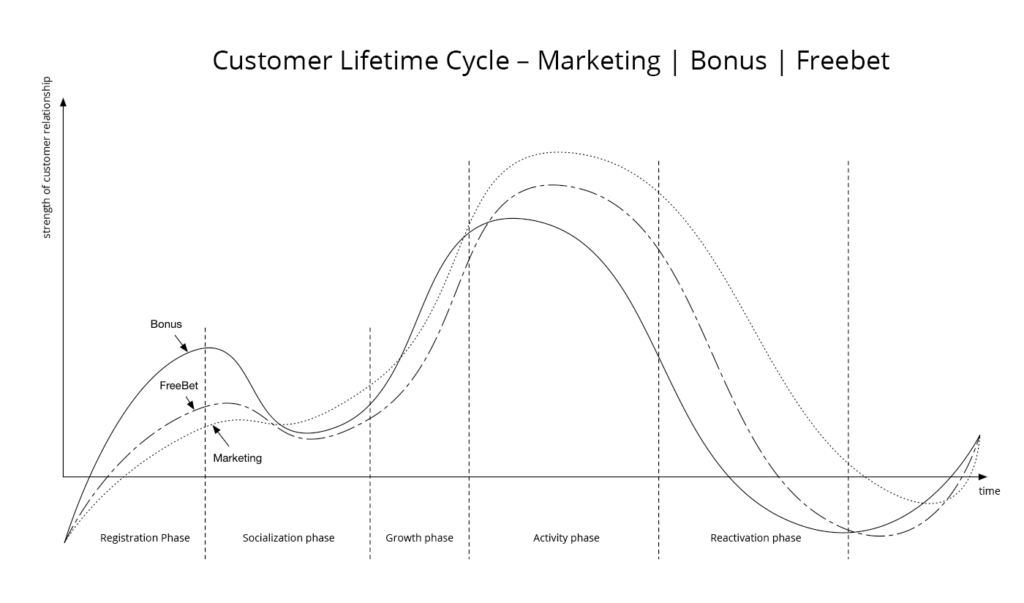 The customer life cycle serves as an instrument to clarify the individual customer relationships. It achieves this by describing the different phases of a customer's relationship with the company.A customer goes through different phases during his lifecycle – from the first point of contact with the offer to the end of the business relationship. In each of these phases, measures such as the sports betting bonus, free bets and marketing achieve different effects.
1. Acquisition phase / registration phase
In the acquisition phase, the customer gets to know your platform and brand. His interest is spiked, but he is not yet loyal to the brand. This is where brand awareness and marketing strategies such as the sports betting bonus come into play. Through these, a betting provider stands out in the market and attracts customers to his platform.
2. Socialization phase / welcome phase
This phase loosely extends from when a customer registers on your platform, until he is established as a regular visitor. Particularly important at this point is the user experience and the first impression of betting on your platform. Especially smooth deposit and withdrawal processes are a decisive feature for a sports betting platform. Customers often only trust a platform when they have successfully withdrawn their winnings for the first time.
3. Growth phase / building customer loyalty
The customer is increasingly gaining loyalty to your brand and testing out the different offers on your platform. He is also examining the entire value that your company has to offer. Nothing predicts organic growth like customer loyalty. Aggressive advertising campaigns and sports betting bonus programs may lure customers onto the platform. However, they are not enough to create long-term loyalty based on an emotional connection with the brand.
In this phase, customers can be classified into groups with high-value, high potential and low-value based on their CLV. From this, the customer retention strategy can then be derived.
4. Activity phase
Players at this stage find out what they like and come back for more. This is where many sports betting providers use most of their marketing resources. This is usually donw by offering high-value customers promos and special customer service. In addition to free bets and bonuses, marketing activities that emphasize the quality and offer of your own platform and thus maintain loyalty,are particularly important here.
Extending a customer's lifespan on the platform can be efficiently managed with an effective CRM software. Arland's iGaming platform Bookmaker NEXT offers a fully integrated CRM system. Thanks to this, providers able to optimally cover the requirements of the sports betting industry.
Read more here: How to set your marketing campaigns up for success
5. Reactivation of customer loyalty / recovery of the customer
After a while, the recovery phase finally comes, which is characterized by customer churn. Especially with high-value customers, this is a big loss for betting providers. It is therefore important to recognize behavioral patterns that lead to the detachment from brands at an early stage. An example would be if a player, who was otherwise active every day, is suddenly inactive for a long time. Sometimes these patterns can be spotted in time and interrupted, for example by replicating or even beating a competitor's promotion such as a sports betting bonus.
The aim in this phase is to increase loyalty to your own brand again. Targeted customer communication is essential for this purpose. Effective customer service oriented towards the needs of the target group also lowers the churn rate. It achieves this simply by increasing the quality of the product and offer.
Read more on the topic of customer segmentation here: Sport betting business intelligence: Customer communication
---
Conclusion
Understanding customer lifecycles is the starting point for any targeted sports betting marketing activity.
With the necessary information about your customers, you can divide them into different segments based on the lifecycle phase. This allows you to plan your marketing campaigns accordingly and make strategic decisions regarding marketing spend, messaging, channels, duration, etc.
For this reason, the CRM system of Arland's iGaming platform Bookmaker NEXT is based on exactly this approach. With our dynamic segmentation, you can use real-time data to gain a deep understanding of your customers. These insights enable you to easily structure your marketing strategy based on player behavior and maturity.
If you would like to find out more about the customer life cycle for sports betting customers or about Bookmaker NEXT's CRM system, simply send us an email to [email protected]