Pricing and business models
In order to provide every company with the optimal solution for its individual requirements, we offer our platform and our frontend solutions in various flexible business models with transparent cost structures.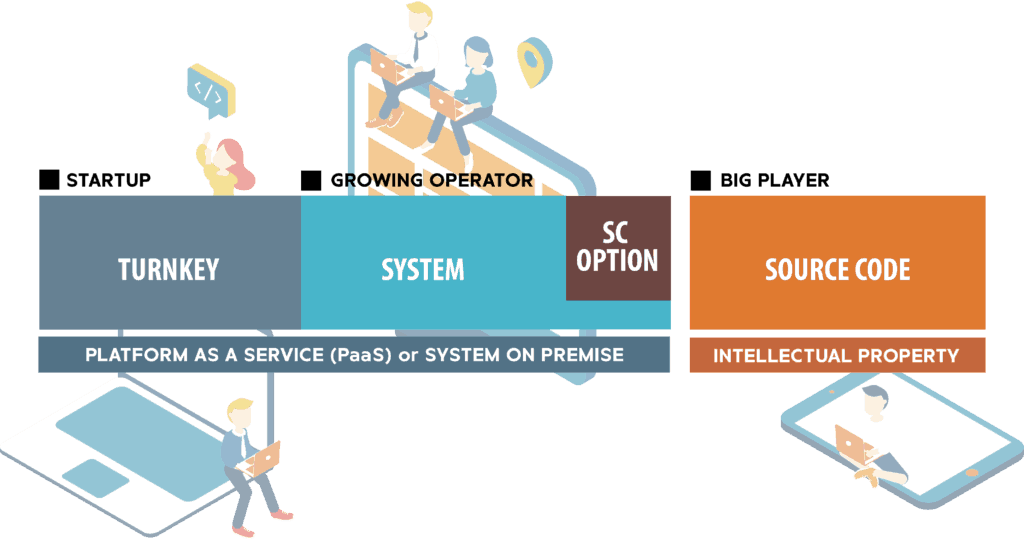 Business models in comparison
Optimal performance for all sizes
The all-in-one solution: everything from a single source on a shared platform; You simply focus on your customer acquisition.
The classic betting system in-house – everything in your own hands. A system for your betting company only, perfect for fulfilling compliance-requirements.
The complete software source code from BM NEXT for unlimited development possibilities and intellectual property.
Companies of all sizes that want to concentrate on their core competencies in marketing and sales.
White label available via our partners
Medium-sized to large international betting providers with high compliance requirements or individual product strategies.
Source Code option available!
Media houses, stock companies, syndicates and betting providers with their own development team who want to build on an existing software solution.
Wingo is the perfect product for everyone who wants to get into the betting business quickly and easily, but cannot or does not want to take care of technology, odds and risk management themselves – our Wingo partner company makes it possible. The ideal all-in-one solution for your business – standardized products for your business premises and your website.
YOUR quick entry into the betting business
The turnkey solution from Arland offers you a customizable betting platform with all the tools you need to run your betting business. Thanks to the optimized CMS, the look and feel of your website can be customised according to your ideas. If you have any questions or problems, our support team is available around the clock!
You want to earn money with sports betting, have good marketing reach but do not want to run your own betting business? With our white label solution, you work within a share deal under the license of one of our partner companies under your own brand but without your own risk – the betting customers are contractual partners of the betting provider.
Your stand-alone betting system
Thanks to the flexibility offered by your own system platform, you can make a wide range of adjustments with the help of our team of experts to meet the compliance requirements of your target markets. The optional access to our BM NEXT API allows the development of completely custom clients for new possibilities of differentiation.
Start as a system customer and grow with us at your side – you also have the option to purchase the Bookmaker NEXT Source Code, reduced by the costs of your system. 100% support from Arland, less risk for you.
Your own betting software
By purchasing the BM NEXT Source Code, you have the opportunity to obtain intellectual property in our innovative sports betting software and to run your betting company with less dependence on third-party providers. With your own development team, you can further develop our software according to your ideas and adapt it without restrictions.
Arland is a technology and service company and not a betting provider itself, as we don't want to compete with our customers.
In principle, our customers hold all bets themselves and are responsible for creating the legal requirements for their activities.

Curious how we can support you?
Tell us about your project so that we can give you the best possible advice – one of our experts will shortly contact you personally!