A SINGLE PLATFORM FOR
ALL AREAS OF YOUR SPORTS BETTING COMPANY
Bookmaker NEXT is more than a sports betting software – it is the cumulative result of over two decades of customer feedback and never-ending research. Our new platform is flexible, open to innovation, meets high demands and is easy to scale – perfect to support the present and the future of iGaming.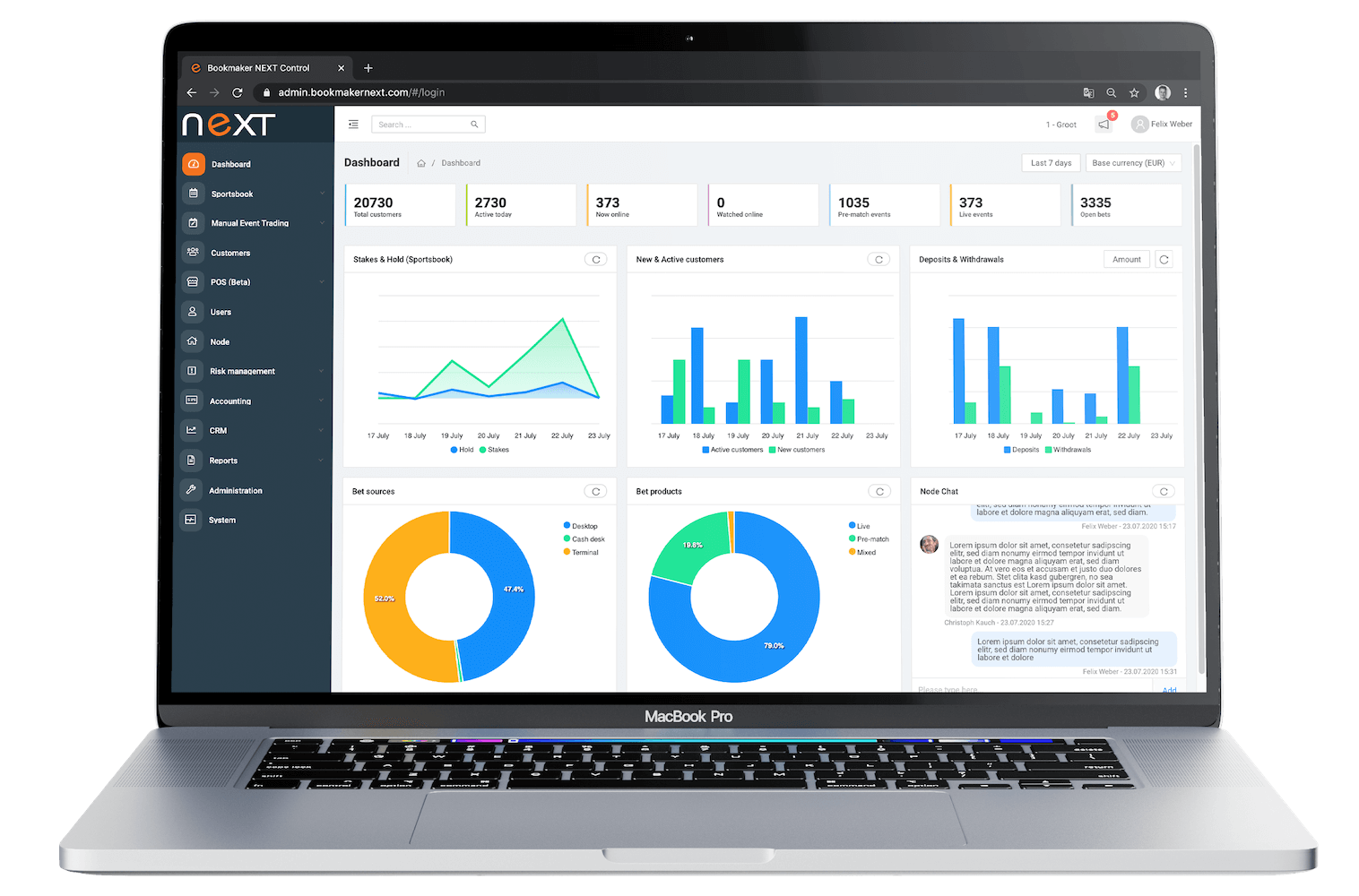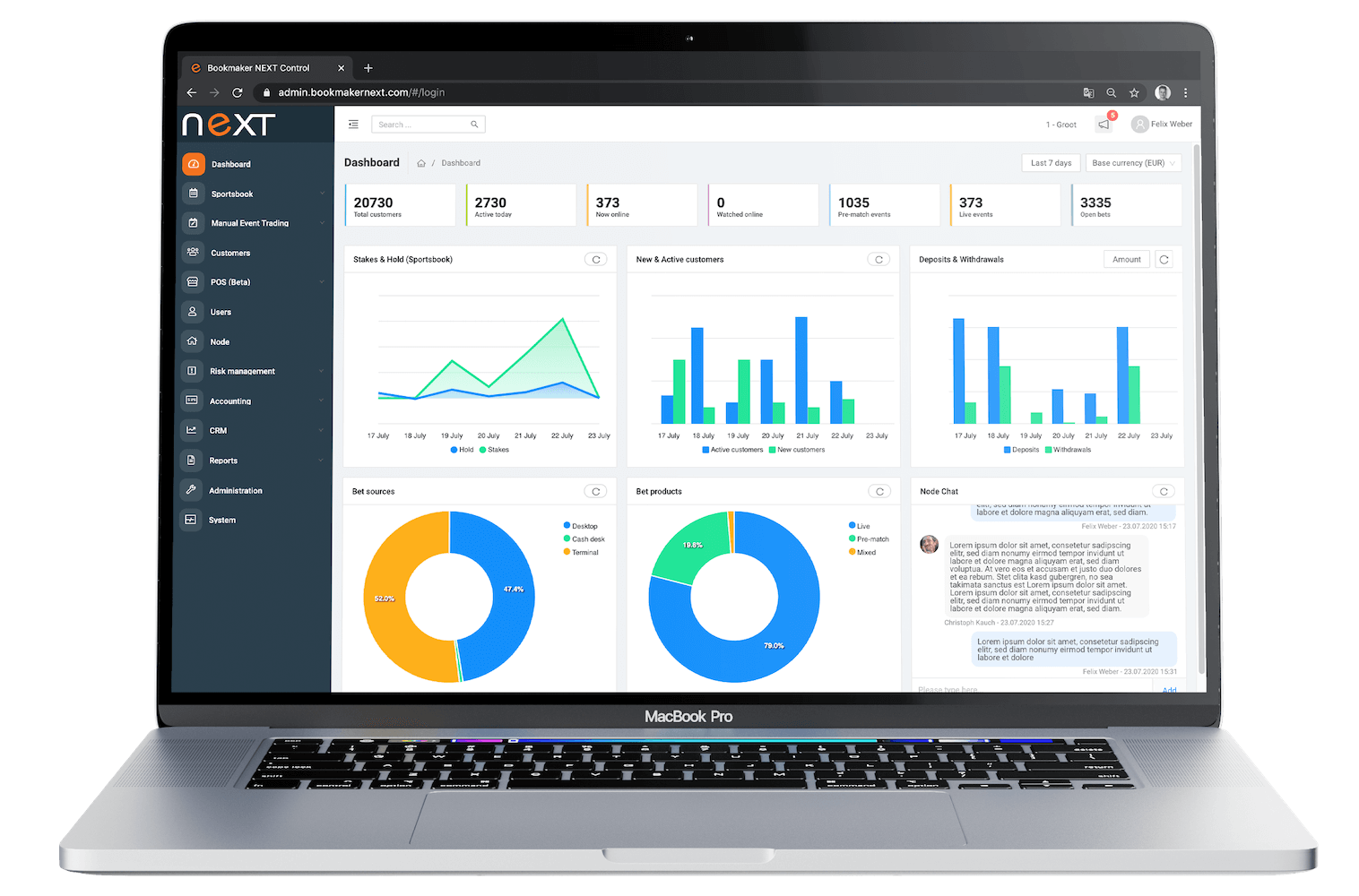 Bookmaker NEXT offers sports betting companies a holistic solutions for their operation. As a central management software, Bookmaker NEXT Admin  enables the comprehensive management of your sports betting company – with tools and functions for all areas.
Regardless of whether you operate a website or a chain of betting shops, Bookmaker NEXT provides your company with an omni-channel iGaming platform that adapts to your requirements with remarkable user-friendliness and maximum flexibility.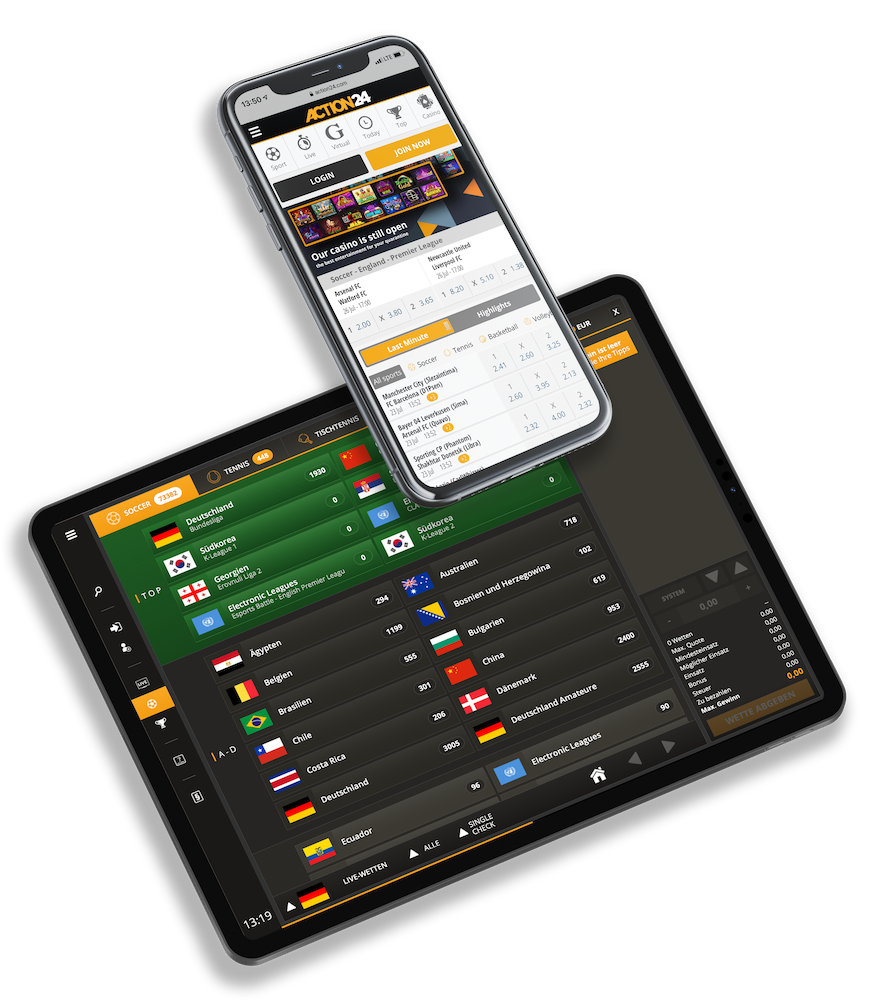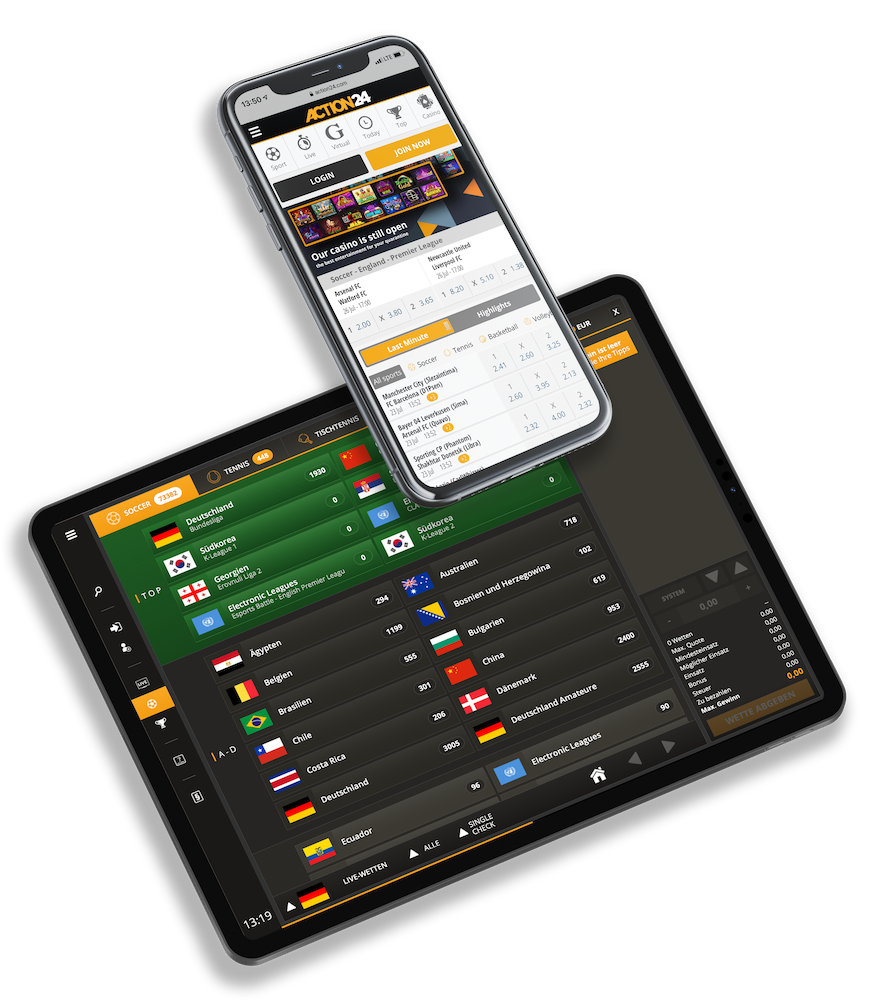 Betradar certified partner
ARLAND has been working as a certified partner with Betradar's products and services since their establishment in 2001. This gives us the opportunity to provide our customers with first-class support in all areas of their operations with the most powerful data feed (UOF) and the reliable Managed Trading Services (MTS) from the market leader.

Open structure sports betting software
For quick deployment und product differentiation
Open source frontends in combination with comprehensive RESTful APIs offer endless possibilities for customizing and differentiating your platform and guarantee a fast delivery of new products and / or new user experiences, whereby innovative content can now be created even more easily.
With the Bookmaker NEXT API, standard sports betting software front ends can be completely redesigned, expanded and / or adapted using the available business logic. The Bookmaker NEXT Custom CMS offers adjustments in real-time.
Powerful segmentation and campaign tools are readily available. Third-party marketing or business intelligence software (e.g., Iovation, Salesforce, Optimove, etc.) can however be connected via the Bookmaker NEXT-API without a problem.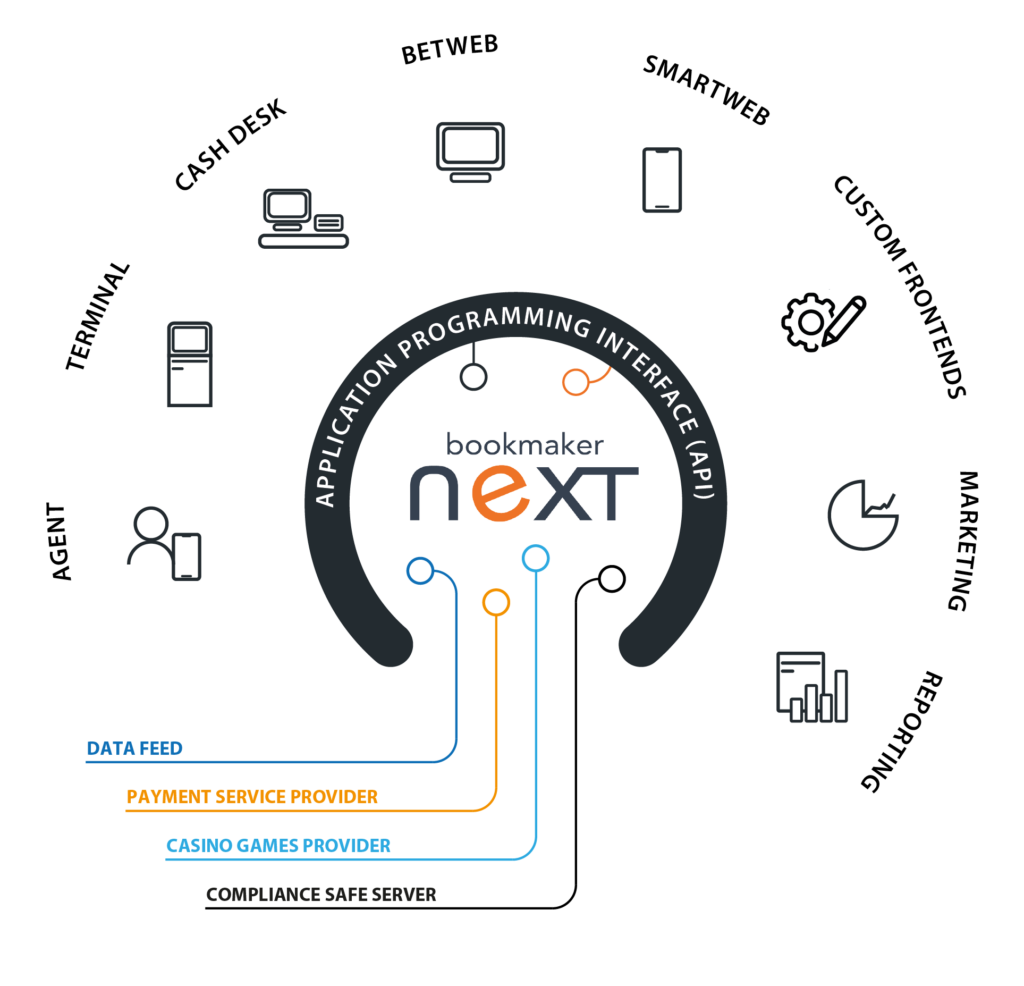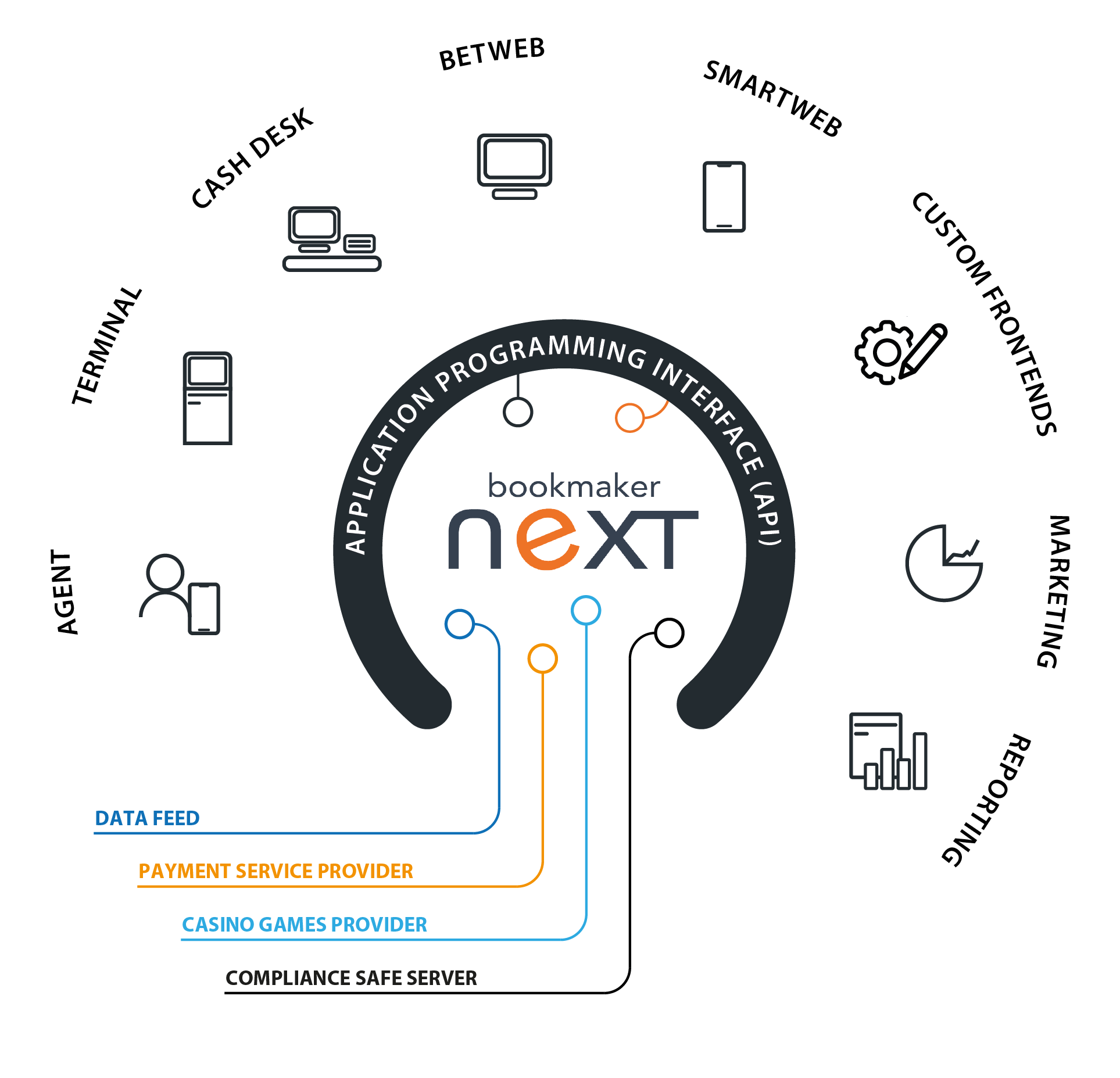 Selected technology for performance, flexibility and scalability
Start cost-efficiently - grow economically
With its modular approach, the intelligent architecture of BM NEXT enables cost-efficient set-ups that cover all requirements of iGaming companies of all sizes. The scaling takes place according to your plans and requirements. The system can be expanded quickly and economically thanks to its ability to grow horizontally and vertically. For example, do you have more customers who bet on their smartphone? The increasing load can be countered with additional mobile application servers, which can be integrated into your system within a very short time.. The hosting can be outsourced as required.
The Bookmkaker Next Application Programming Interface (API) is a specification that is used as an interface for software components. This API offers REST-based access to resources, through which end customers can use the Bookmaker NEXT functionalities. Developers can easily integrate their own advanced and comprehensive applications for desktops, cell phones and other devices through the API.
In addition, this interface gives the operator the option of creating his own channel clients. All standard clients provided by Arland (Betweb, Smartweb, POS-Terminal) use the same API.

Want to learn more about our sports betting software?
Schedule a product demo and discover what Bookmaker NEXT can do.