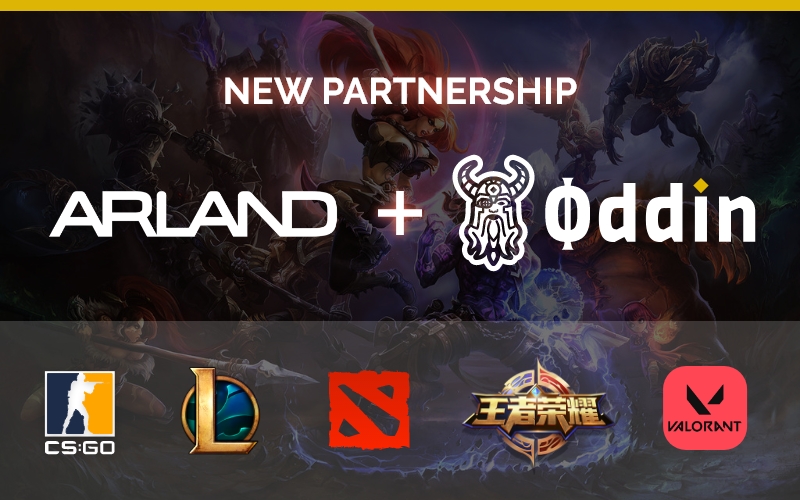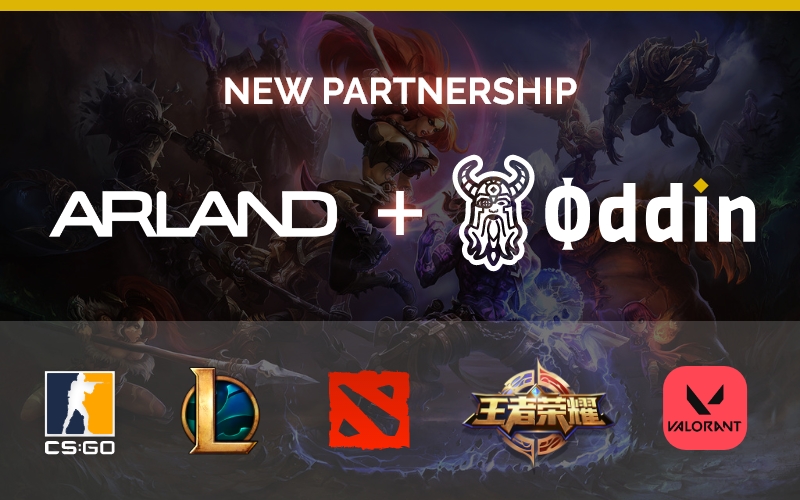 Austrian iGaming platform provider Arland expands the offering of its software Bookmaker NEXT with the esports iFrame from Oddin. This latest integration shows the flexibility of Arland's proprietary betting platform and its potential for creating modern and innovative iGaming solutions.
"Our partners across the globe are aware of the potential represented by esports, one of the most important drivers of growth for the betting industry in the next couple of years. Therefore, we were searching for a solution that could bridge the gap between sports betting and this new ecosystem represented by esports. The Oddin iFrame solution fulfilled all the requirements, creating a perfect match with our Bookmaker NEXT Software. We are now addressing the industry with an innovative and robust esports-centric platform."

Felipe Andrade, CEO at Arland
Oddin has positioned itself as a quickly growing esports odds feed supplier. Its offering is focused on an engaging live-betting selection and covers all major esports titles: Counter Strike: Global Offensive, League of Legends, Dota 2, and Kings of Glory.
''Felipe and his team share our vision about challenging the status quo. Arland and their partners understand the value that esports brings, especially in terms of demographics as well as new and alternative revenue streams. They see the potential on markets that have not been properly addressed yet. We are happy to continue our expansion and make our truly engaging esports offering available through progressive partners such as Arland."

Marek Suchar, Head of Partnerships at Oddin.
There is an increasing demand for end-to-end solutions from esports betting start-ups that are looking to expedite their go-to-market strategy. Combining the esports-centric iFrame and a progressive platform, the cooperation aims to target these market players as well.
During the last year, many bookmakers finally understood the importance of esports. However, only those driven by innovation and with a clear vision of the future are ready to invest in it. Only time will tell if esports can challenge traditional sports – but given the fact that esports fans are mostly younger generations, the right question is actually 'when' rather than 'if'.
---
ABOUT ARLAND
Arland has been developing software for the needs of the modern iGaming industry for 23 years. Supported by their unbeatable partner network, they cover the requirements of companies of any size with flexible and powerful all-in-one solutions – from customisable frontends to optimised marketing and management tools. Arland believes that running a sports betting platform doesn't have to be complicated. For this reason, their platform Bookmaker NEXT combines all the necessary tools and at the same time offers the highest flexibility and user-friendliness – for new opportunities for diversification and outstanding gaming experiences.
---
ABOUT ODDIN
Oddin is a B2B provider of esports odds feed, risk management, and iFrame solutions. It delivers the most engaging esports betting experience with industry-leading uptime and number of live markets. The solution boosts engagement, drives volume, increases margin, and thus accelerates profitability. This is only achievable by a combination of state-of-the-art technologies, advanced data science and machine learning algorithms, experienced traders, and official data. The team has more than 50 years of combined experience in betting and esports, successfully doing business with the most complex platforms globally, including Betfair Exchange in the past.