After the sports betting industry was hit by the global pandemic in 2020, one year later it is now possible to make clear statements about its actual effects and the trends for the coming years.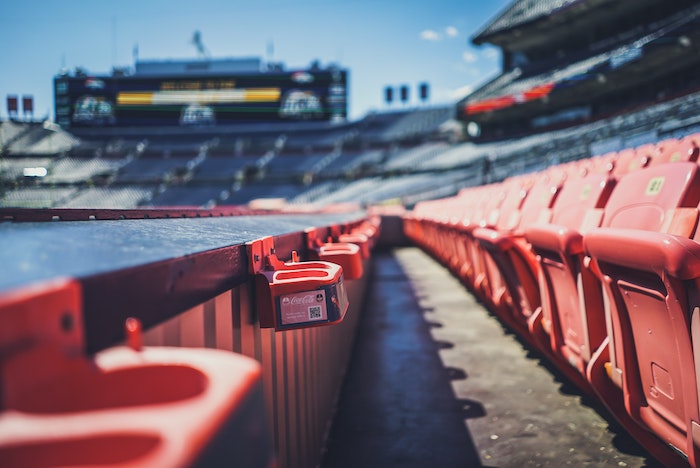 Event cancellations, closings of local betting shops and loss of income for many people presented the sports betting and gambling industry with major challenges in 2020. But while the pandemic affected land-based gambling as much as it did some of the worst-hit industries such as the automotive and tourism sectors, there were undreamt-of developments in the area of online gambling.
As a result, companies and providers in many places were forced to adapt their strategy and look for an alternative betting offer, switch their products to online solutions and address new target groups. However, what these changes actually mean for the future of this industry is apparent from current data and forecasts.
Numbers & facts
Global gaming revenues have declined sharply over the past year and are likely to continue to be affected by the impact of the global pandemic. But how bad is it really?
A prognosis by the European Gaming and Betting Association (EGBA) in cooperation with H2 Gambling Capital forecast a decline in total revenue from gambling in the EU-27 and UK markets by 23% in 2020 – from EUR 98.6 billion in gross gaming revenue (GGR) in 2019 to EUR 75.9 billion in 2020. Current data from H2 Gambling Capital confirm this – a global decline in gaming revenues of 26% could be recorded.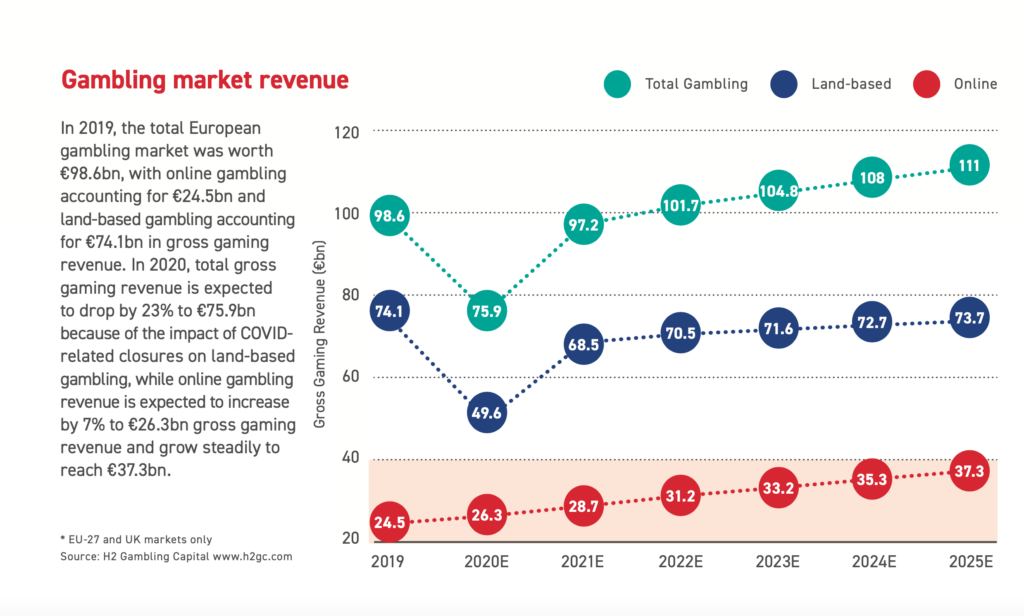 ---
The forecast that online gambling revenues in Europe would nonetheless increase by 7% in 2020 – from EUR 24.5 billion GGR in 2019 to EUR 26.3 billion in 2020 – could not be confirmed, however. Although some European countries such as Spain even recorded an increase of 18% (Source: DGOJ), there was a global decline in sales of 7% in the online sector. The online growth in countries such as Spain, but also Italy, France and Germany could have something to do with the fact that online penetration of the entire gaming market in these markets is still relatively low compared to other European countries.
As expected, however, the most serious was the drop in sales in land-based gambling. Due to the worldwide closings of casinos and local betting shops, there was a global decline of 39%. A decline of 33% was forecast for Europe due to the closure of betting shops – from EUR 74.1 billion GGR in 2019 to EUR 49.6 billion in 2020.
Probably not least due to the retail failure, there was a phenomenal increase in the global percentage share of online gambling use (as shown in the graphic below) last year, which rose from 13% of all gambling revenues (before COVID) to 19% within a few months and reached a full 20% by the end of the year. This is particularly impressive because in markets such as Africa, Asia, South America and the Middle East, the online penetration of the markets is much lower than, for example, in the countries of the EU, where the online share was already 23% in 2018.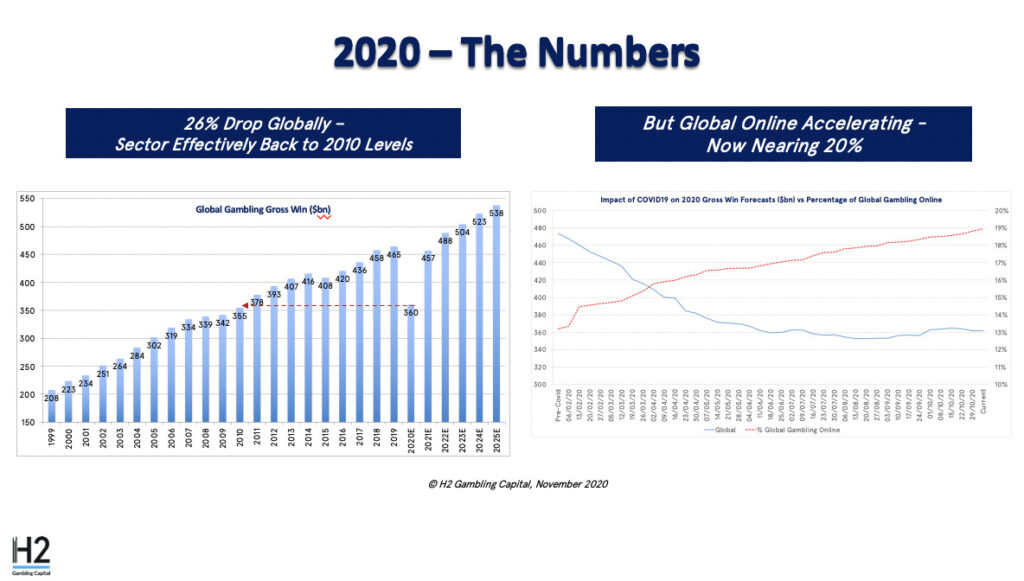 ---
What does this mean for sports betting providers?
The current data shows what many sports betting providers had to find out for themselves last year: The use of a retail-only strategy in sports betting is becoming more and more difficult, as it is no longer a stable source of income in times like these.
In view of the global boom in online gaming and the growing penetration of the markets, the time has come for many providers to implement at least a dual strategy.
Omnichannel betting platforms on which customers can bet on all frontends (online, mobile, retail) with just one login and one wallet have long proven their worth in the industry. Such an approach is also ideally suited to enable retail players to switch to online betting. The following applies here: The lower the barrier to change, the easier it is to convince this player demographics of new (online) products.
In addition, now is the ideal time for betting providers who have been thinking about switching their retail betting software for a long time.
The change from an outdated betting platform to a new one is usually associated with considerable effort and a challenging transition period – especially when it comes to avoiding failures and making the change as smooth as possible for your own players. The temporary closure of the betting shops offers the perfect opportunity for this – so that when they reopen, they can shine with the highest level of functionality and user-friendliness.
In addition, the data showed that the increasing popularity of the use of mobile devices for online betting, which has already been observed in many markets in recent years, is more relevant today than ever before. Mobile betting was expected to account for 45.6% of European online betting revenue by the end of 2020 and 50.8% by 2022. This would surpass the global use of desktop betting for the first time in history. This trend has been evident in many markets for a long time – bets placed on mobile devices already account for more than 70% of the betting volume in some places. A development that will continue in the future – a global share of at least 58.2% is forecast for mobile betting in 2025.
A mobile-first approach will therefore become essential for sports betting providers in the future. User-friendly smart phone apps and mobile web pages are more important than ever.
---
Conclusion
As the figures show, the gambling sector and thus also the sports betting industry are still facing major challenges that can only be mastered with a flexible strategy that is adapted to the situation. It is therefore important for betting providers to weigh up their own possibilities carefully, to closely monitor developments in their own market and to rely on an online or mobile-first strategy in order to survive this crisis.
Read also: The importance of a multi-market strategy in times of COVID 19
The Arland experts will be happy to advise you individually on your questions. Simply write to us at [email protected]