Being successful also means knowing how to measure your own success – in the words of Archimedes: "Measure everything that can be measured and make everything measurable that cannot be measured."
Each betting operation has different phases, each of which requires its own marketing approach, e.g. winning new customers, reactivating the old customer base, managing high rollers, gaining market shares in strategic regions or countries, etc. However, to make the success of these marketing measures measurable, it is necessary to define the correct KPIs.
In this article we answer the question of how success in sports betting can be measured and which values are really important. At the beginning, the procedure for creating important KPIs is explained, followed by some concrete examples from practice.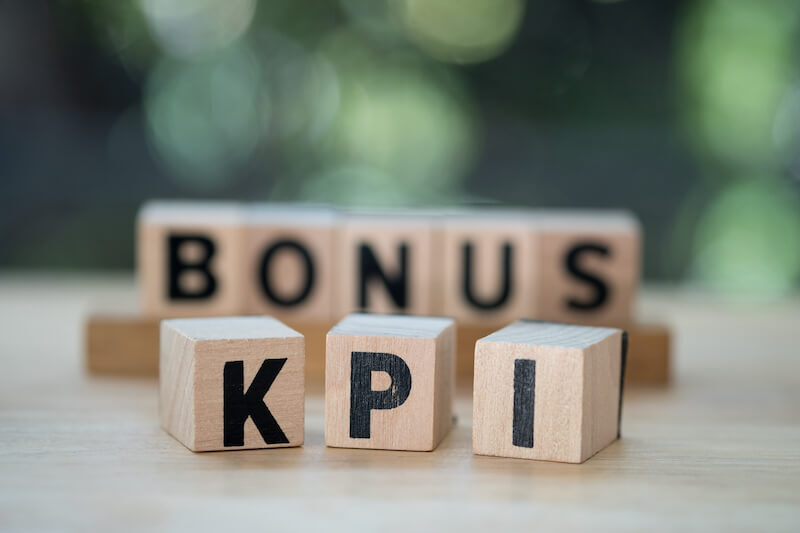 The approach
In order to not only efficiently align your marketing measures with the strategy of your betting company, but also to be able to check your performance in order to derive new measures, we recommend an approach according to the following steps:
1. Outlining clear marketing goals
Before the marketing measures of your company can be implemented, clear goals must first be defined. The more precisely the goals are defined, the more efficient your marketing measures can be.
For example: Win 200 new betting customers per week for the betting platform who make at least one deposit.
The example mentioned is both specific, measurable, achievable, relevant and time-bound. It would be unsuitable, for example, to use the following goals: "Generate more online customers", "Raise turnover by €100.000" or "Win more tennis fans", since no direct measures can be derived from these.
Concrete measures can now be taken on the basis of the defined goals – the goals therefore lead to actions with which more new registrations can be achieved. The sales team can now be given the specific task of placing advertisements on Google, Facebook, Instagram, etc., running email campaigns or running promotions in soccer stadiums. The measures are only limited by the creativity of the team and the available budget.
The objectives should always be realistically achievable.The growth of a brand does not happen overnight, but is a continuous process. Customers have to slowly build trust and the best advertisement for your brand is and will remain satisfied customers!
2. Definition of KPIs for performance evaluation
The question of whether the implemented marketing measures were successful in achieving the defined goals can be measured using so-called key performance indicators, short KPIs, which can be used to map the effectiveness of important processes.
KPIs are measured values that are particularly important for achieving business goals and that can also be used to track and measure progress.
KPIs must be specific, measurable, achievable, relevant and time-bound.
Without clear goals that are tailored to the company's development phase and its strategic approach to competition, it is impossible to define the right KPIs. For this reason, before defining a marketing campaign, we recommend defining the marketing goals and then defining the KPIs that can be used to demonstrate the success of the marketing initiatives implemented.
3. Analysis and assessment
Once a sports betting provider has taken marketing measures, they must also be evaluated for their success and continuously adapted.
It is important to recognize which measures are sensible and efficient to achieve your own marketing goals and then to concentrate your own resources (time, capital) on the more successful measures. The goal or the KPIs should always be kept in mind. If the goal has not been achieved in one week, the next week should be used to work on the adjusting screws of marketing and to adapt the corresponding marketing measures.
In order to further develop your own marketing measures in a meaningful way after a detailed analysis, the same procedure applies as at the beginning: Define goals, set measures, measure success, adapt.
As an established provider with an existing customer base, reactivation measures are particularly necessary. Because it is fundamentally easier – and cheaper – to motivate existing customers to bet than to recruit new customers. "Loyalty programs" and recurring bonuses are particularly useful for this.
In this case, the objective could be something like: reactivate 100 inactive customers per week on the platform / get them to make at least one real money deposit.
In order to achieve this goal, you could now, for example, use an email campaign to advertise a deposit bonus and send it to all customers who have not been active on your platform within the last two months. Another possibility would be to "remind" customers of your brand through re-targeting via other channels.
Within Bookmaker NEXT, such customer groups can be created and exported very easily using dynamic segmentation. Your customer base can be filtered according to various criteria and marketing measures can be effectively geared towards them.
Read more on this topic in our article about customer segmentation.
Examples of KPIs in sports betting
To help sports betting providers keep a good overview of the success of their marketing measures, here are some basic KPIs:
Time period to be tracked, e.g. the last 7 days
Total registrations in the time period
Deposits and withdrawals
Total deposits in this time period
Total withdrawals in the time period
Average deposit amount in the time period
Number of players without deposit (and increase in %)
Number of players with only 1 deposit (and increase in %)
Number of players with X deposits (and increase in %)
Number of players with X or more deposits (and increase in %)
Bets
Total number of bets (and increase in %)
Number of bets per channel (mobile, desktop, terminal, others)
Number of single bets
Number of combi bets
Number of system bets
Total stake in the time period
Average stake in the time period
Total bet returns in the time period
Freebets & bonuses
Number of accepted bonuses
Number of rejected bonuses
Number of free bets in the time period
Total stake from freebets
Average stake from freebets
Total returns fom freebets
TIP: Payment metrics (such as total deposits and withdrawals) are important to assess whether the marketing measures are having an impact on financial transactions. Payment is an extremely sensitive issue for betting operations, with huge significance for the user experience. Apart from that, KPIs like the average deposit amountcan be a good indication of the user's trust level.
The Bookmaker NEXT provide strategic information and important marketing resources in real time via the integrated CMS. A combination of key performance indicators and customer segmentation can provide managers and marketers with the right data to make marketing approaches efficient and targeted.
---
The Arland experts will be happy to advise you individually on your project – just write to us at [email protected]