In the sports betting business, the relationship with the customer is essential for the success of a company. Every customer is different and unique – and that is how they want to be treated. This is true in marketing as well as in the offer of the sports betting platform. But as a sports betting provider, it is impossible to know each individual customer personally. This makes it difficult to know what their respective requirements, preferences and behavioral habits are. In this article you will learn how to use customer segmentation in sports betting in order to get to know your players and be able to address them individually.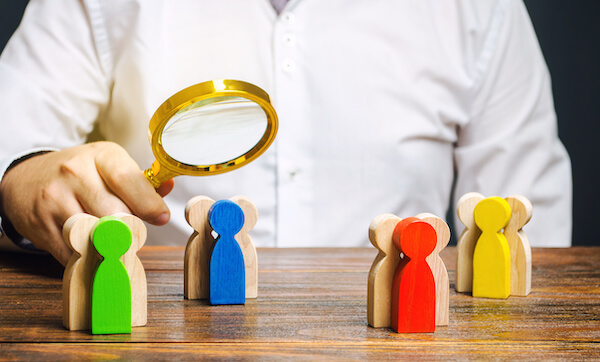 Customer segmentation means to identify certain groups in the totality of (potential) customers. The individuals within these groups will show the same characteristics and thus most likely the same consumer behavior.
This means you can take advantage of the fact that customers are similar in terms of their wishes and characteristics. Thereby, people with the same relevant characteristics and requirements can be combined into groups (segments) and treated or addressed in the same way – depending on how it fits the group and its characteristics. The members of a group should then show the same reactions or the same consumer behavior. However, the individual customer has the impression that he is being served individually.
Theimportance of customer segmentation in sports betting
For sports betting providers, the importance of customer segmentation is that players (customers) with specific needs and wishes can be reached precisely. In the long term, you thereby benefit from the fact that company resources can be used more effectively and that better strategic marketing decisions can be made. Marketing measures can be aimed at individual groups and not only achieve better results, but also often save money because the marketing resources are used in a more targeted manner. In addition, the company will become much more customer-oriented overall.
Specifically, customer segments can be used to narrow down a marketing campaign and improve results. This is achieved by adding the necessary business intelligence to the communication strategy. So instead of applying all campaigns to all users, via segmentation, campaigns are used where they bring the greatest expected success. A dog toy retailer will be more successful if its promotional activities target dog lovers. Likewise, a pure soccer fan will be more likely to respond to a marketing campaign advertising soccer rather than cricket.
How are customer segments created?
A group of customers with similar characteristics is a target group in the context of customer segmentation in sports betting. This group is then processed individually based on its respective characteristics.
Decisive factors for customer segmentation are the attributes and characteristics of the (potential) customers of a defined market. According to these factors, they will then be differentiated and assigned to a specific customer segment.
This requires:
Definition of goal(s) for the customer segmentation (e.g. marketing campaigns, product development, etc.)
Conduction of market research and analysis
Collection & analysis of information (data) about customers to identify patterns
Definition of the attributes & characteristics of the target group
Identification of customer segments (e.g. using cluster analysis)
Description and creation of customer segments
Statistical methods for customer segmentation:
The customer segmentation is based on the multivariate analysis of customer data. Statistical methods for this purpose include: factor analysis, multidimensional scaling, contrast group analysis, AI methods, cluster analysis.
These methods are suitable for identifying customer segments. If the customer segments have already been defined, conjoint or discriminant analysis can be used to check to what extent the assumptions apply.
Examples of customer segmentation in sports betting:
In sports betting, customer segments based on demographic or behavioral characteristics of customers are ideal.
A few examples are customers who:
completed the registration process
registered from an iPhone or iPad
made their first deposit
deposited more than 100 euros
placed their first bet
have not placed a bet in 30 days
have money in their account and have not placed a bet in 30 days
of a specific marketing partner
have used a specific voucher code
registered between 2 specific dates
are female / male
are fans of a particular sport / league
from a specific region
often bet on events of a certain team
A number of strategies, including demographics, lifestyle, and usage patterns, can be used to identify new customer segments. A segment can consist of any number of different filters and parameters to ensure precise selection of the desired customer pool.
Tools for customer segmentation in sports betting: Bookmaker NEXT
The bookmaker software Bookmaker NEXT from Arland supports customer segments for various purposes:
CRM ("Customer Relationship Management")
Node-structure
Risk management
Customer segmentation: CRM
Marketing measures can be concentrated by selecting established segments in campaigns to indicate which customer group should be specifically addressed.
The Bokmaker NEXT CRM is an interdisciplinary tool that can support risk managers, the marketing department in the implementation of marketing strategies as well as the management in strategic business decisions based on the performance of the players.
Customer segments can be defined in great detail here using a large number of filters and parameters. The dynamic segmentation also has the great advantage that the player segments, as soon as they have been defined and created, continuously grow with the customer base. As soon as a new customer shows the characteristics of the segment, he is automatically added!
Here are two examples of marketing campaigns with specific customer segments:
1) Campaign: "International Women's day 2021"
Goal: (re-)activate female players
Execution: Female players receive € 10 as a free bet on International Women's Day
Configuration of the campaign:
Bonus: € 10 free bet, 5x rollover, expires in 15 days, rejectable, budget € 5,000
Customer segment: all female players
Campaign: one-time on March 8, 2021
2) Campaign: "Thank god it's Friday!"
Objective: Reduce churn rate and increase bets on Premier League
Execution: Players who have had a "bad" week betting on the Premier League will be offered some relief (€ 10 free bet).
Configuration of the campaign:
Bonus: € 10 free bet, 5x rollover, expires in 5 days, rejectable, budget € 15,000
Customer segment: All customers with a sports betting rating of less than 100% who have bet on Premier League England within this week.
Campaign: Weekly interval, Friday, time: 23:00
Customer segmentation: Node-structure
Another way of segmenting customers relates to the node structure of Bookmaker NEXT. This structure which makes it possible to segment customer groups in different nodes. A strategy that is used, for example, to create geographic segmentation as well as customer clusters based on affiliation, interest (e.g. league or sport) or even player status (VIP, high rollers, etc.).
With node segmentation it is possible to:
create a customized betting experience for the respective customer segment
better management and the creation of performance reports on a customer segment
adapt communication for a customer segment (e.g. look & feel based on email templates)
define new risk settings and exclusive promotions
enable access to content that is normally not available in the general parent node (e.g. streaming)
increase or decrease the odds key for certain leagues (especially relevant if you have a segmentation based on interest)
Here is an example of a marketing campaign for a specific node:
Campaign: "Combi of 5"
Goal: increase GGR in node 125
Execution: Promote combination bets by distributing a combination betting bonus (real money)
Configuration of the campaign:
Bonus: Combination of 5, minimum odds 5.0, bonus type "stake", max. Amount € 50, calculation "percentage" 50%
Target node: node 125
Notification: Bonus notification for node 125
Customer segmentation: Risk management
Bookmaker NEXT is based on the understanding that not all customers are the same. Indem die Software die Definition verschiedener Risiko-Sets unterstützt, kann eine Kundensegmentierung basierend auf der Risikomanagement-Perspektive erstellt werden.
Take players for example, who achieve high profits in leagues susceptible to fraud. These players can now be provided with a targeted risk set with stricter limitations (betting limits, combination obligation, etc.). Loyal customers on the other hand can be rewarded with a lower odds key, for example.
Trained risk managers can create such risk sets with the associated limits directly in the software. They can then etiher manually apply them to players, or use Bookmaker NEXT's dynamic customer segmentation, thanks to which different risk sets can be automatically applied to customers.
An example of dynamic customer segmentation according to risk sets would be: Automatically applying sports betting risk level 3 to all customers with a live sports betting rating of more than 50%, a positive balance and no blocked amount.
As a result, the corresponding risk sets are applied directly to players with the characteristics of the respective risk segment. If a player does not match any segment, the standard risk set is applied.
---
Conclusion
By getting to know the customers of your sports betting company better, you can address them individually and offer them the betting experience that suits their needs. With a better understanding of the habits and preferences of your customers, you can also use your company resources intelligently and efficiently and optimize your marketing concepts. In addition, customer segmentation offers you opportunities for better risk management and thus more security for your company.
Would you also like to get more insights into your customer base? Bookmaker NEXT offers you all the tools you need! We would be happy to advise you individually on your project – just write to us at [email protected]