A sports betting provider makes a living from his customers – no customers means no bets. But in order to make them bet with you instead of the competition, you need to first understand your customers' needs. The betting provider has the task of designing his offer according to the preferences of the customers and to win them over, not only through successful marketing but also by asking the right questions.
In this context, the question arises what makes sports betting so fascinating – in short: What do sports betting customers really want? Because only with this knowledge can the strategy of a betting company be successfully oriented towards growth. The short answer would be: fun and entertainment (and of course the hope for a big win). The slightly longer answer is given below.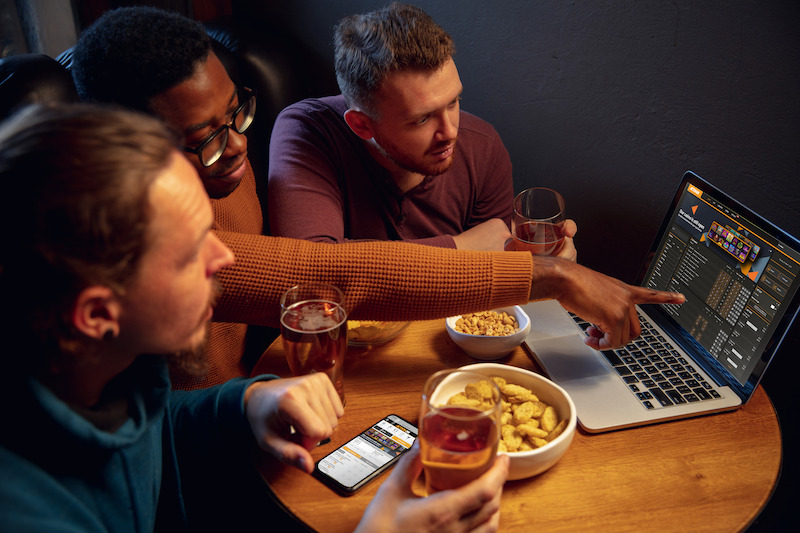 Success factors
If you deal with the question of what makes a betting platform attractive for customers, some success factors emerge, which will be described in more detail below:
Betting experience
Sports betting has largely arrived on the Internet in the last decade – traditional betting shops are no longer the norm, because customers simply bet "on-the-go" on their smartphones. Placing bets via smartphone already accounts for more than 75% of all bets in most European countries, in South America and Africa more than 90% of bets are already placed on mobile.
This easy availability has not only changed the character of betting, it also speaks for the demands of customers: flexible betting, anytime and anywhere.
This makes mobile apps or web apps essential for providers. Omni-channel platforms with a single login make it possible for customers to access the same account from different devices using multiple channels – be it on the go on the smartphone, at home on the laptop or in a betting shop.
This modern user orientation continues in other aspects of the betting platform. The fact that sports betting has now become socially acceptable and is also becoming increasingly social, especially among the younger population, the demands on the betting platform are also changing. It has long since ceased to be just betting professionals, who expertly navigate through odds lists, to which the structure of a betting platform is geared – even sports betting newbies have to be able to find their way around easily and intuitively and make their first deposit and place their first bet with as little effort as possible.
With this target group, the focus is clearly on having fun while betting. An appealing user experience, gamification elements and social functions are clearly the future of sports betting in this area. The times of the "number graveyards" are over on both smartphones and desktop browsers.
Offer
Sports betting providers nowadays outdo each other with the extent of their betting offer – more and more sports, leagues and betting markets are supposed to represent the decisive factor of attractiveness for customers. Much more important than the sheer extent of the offer, however, is the fact whether it also corresponds to the preferences of the customers. Thanks to modern odds feeds like those from Betradar and Betgenius, this lack of betting events is a thing of the past. Rather, it is now a matter of generating an offer that is adapted to its respective markets. An example of this are "Top Events" – events that bookmakers consider to be particularly popular for customers – for large and international sports betting providers, due to their size, these are mostly important international leagues such as the Champions League or European Championship / World Cup. A national provider, however, knows the preferences in their own country far better and knows which regional leagues and events are really important for local betting customers.
In order to be able to assess this, it is of course necessary that betting providers know their own customers and their behavior. More on this topic under customer segmentation.
As the target group is getting younger, however, new preferences are also developing when it comes to the betting offer. Bets on esports are now more popular than ever and at the latest since the pandemic-related absence of the traditional betting offer more relevant than ever for providers.
Arland's sports betting software Bookmaker NEXT is now integrated with Oddin to add a powerful eSports odds feed to the betting offer. Sports betting on popular eSports such as League of Legends, Counter Strike GO, DOTA 2 and more make the offer significantly more interesting, especially for the target group under 30 years of age.
Virtual sports are also a popular alternative to betting on conventional sports. Read more on the topic here: Betting on Virtual Sports and eSports as an alternative to classic sports betting?
Trust/professionalism
Due to the ever-increasing selection of betting providers, which is hardly limited thanks to the possibilities of the Internet, the professionalism and associated trustworthiness of a sports betting provider play a significant role.
The majority of European markets, as well as many international markets, are now regulated and usually have a state-regulated licensing process. One way to stand out from the crowd of (mostly illegal) providers is to have a valid sports betting license.
However, a license may not only be necessary for legal operation. Most of the common online payment methods now require a valid gambling license. The availability of payment providers for a sports betting platform is linked to the compliance guidelines of the respective payment provider and the existence of a valid sports betting license and represents one of the greatest challenges for new and existing sports betting providers.
However, providing a reasonable selection of payment methods for your customers has many advantages: on the one hand, a selection tailored to the payment habits of the respective target market leads to more deposits, since the deposit barrier (as it occurs with unknown payment methods, for example) is lowered for the customers and on the other hand, offering more well-known payment methods such as Visa, Mastercard or Paypal also leads to a higher trustworthiness for providers. "If paypal trusts this platform, so can I."
The possibilities in the field of marketing also depend heavily on the regulation of gambling advertising – as an unlicensed sports betting provider, advertising via Google, Facebook, etc. cannot be placed in regulated markets, and advertising in TV and print media is usually also dependent on a valid license. More information on this topic is available at the responsible authority of the respective country.
Bonuses & promotions
Probably the most common method of customer acquisition and activation in sports betting is the award of bonuses. Betting providers outdo each other with their bonus promotions and lure customers with the highest bonus amounts.
However, the marketing measures of a sports betting company must reflect its own strategy and support its implementation. It is essential to always keep an eye on the current growth phase and the size of your own company – copycat strategies that are implemented by other companies, on the other hand, can present your company with challenges (e.g. high bonus costs) if the sports betting company used for reference is in a different phase of maturity. In the end, smaller providers simply have less capital available to invest in bonus campaigns, which is why alternative forms of customer acquisition and activation should be used.
You can find examples of how you can successfully design your marketing in sports betting here:Sports betting business intelligence: How to set your marketing campaigns up for success
Communication/support
Due to the steadily growing range of sports betting platforms from a wide variety of providers on the market, customer expectations of products, functions and services have changed and increased significantly. With these growing demands, however, the customer himself has also changed: he is more self-confident, more demanding and has a growing influence on the betting offer.
The customer demands added value that goes beyond the conventional market offer and nowadays regards the additional services as a decisive criterion for the choice of the betting provider. Because if this added value is missing, it is easy for the customer to switch to another provider due to the large range on offer. As already mentioned above, the number of markets and events is no longer a decisive factor – for most customers there is no added value if another regional table tennis league is offered from the other end of the world.
Professional and targeted communicationwith their own customers is far more important for sports betting companies. The way of communication is crucial for building and maintaining a customer relationship, as it influences how satisfied the customer is and how good the relationship is that binds him to the company.
Customer communication not only serves to achieve marketing goals, but is also characterized by a high level of service orientation. It is therefore essential for sports betting providers to provide professional customer support to answer various customer queries quickly and competently.
Read more on this here:Sports betting business intelligence: Customer communication
Marketing: Customer segmentation
In sports betting, the relationship with the customer is essential for the success of a company. Every customer is different and unique – and that is how they want to be treated, be it in marketing or in the offer of the sports betting platform.
In order to get to know your own customers as well as possible and to be able to address them individually, there is the possibility of customer segmentation. This means that people with the same relevant characteristics and requirements can be combined into groups (segments) and treated or addressed in the same way, depending on how it fits the group and its characteristics.
Specifically, customer segments can be used to narrow down a marketing campaign and improve results by adding the necessary business intelligence to the communication strategy. Instead of applying all campaigns to all users, segmentation can be used to deploy campaigns where they will yield the greatest expected success.
Learn more about customer segmentation here:Sports betting business intelligence: How well do you know your customers?
---
Conclusion
Knowing who their customers are and what they really want is the path to success for sports betting providers.
Also, with a better understanding of the habits and preferences of your sports betting company's customers, you can use your resources intelligently and efficiently, and give your marketing concepts a significant strategic advantage.
Would you also like to get more insights into your customer base? Bookmaker NEXT offers you all the tools you need! We will be happy to advise you individually on your project – simply write to us at [email protected]